We are proud members of our national professional photography organization, PPA!  Being a member of this amazing organization means a number of great benefits to you, our current or potential client.  First, this tells you that we're invested in our field and are committed to continuing education to both better our photography expertise as well as our client experience.  Second, we're full time, fully committed to our business – it's all we do, and we're experienced.  Third, our PPA membership provides insurances and coverages that in turn allow our service to you to be protected and backed by PPA.  We're a part of something bigger than just us, and that network allows us to provide a greater level of service to you!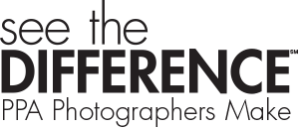 You may be in the initial stages of choosing the right professional photographer for your family.  There are countless people out there who have really nice cameras, so does it really matter if you let your friend down the street take your families pictures versus investing in a true professional photographer?  We believe truly professional photographers provide a truly better experience, and we hope the videos and side-by-side comparisons below help you to See the Difference professional photographers make in both your portraits as well as your client experience.  Whether you choose us or another professional photographer, make sure to choose well and choose a professional.  They're your family moments and memories – you want to LOVE your photography and have amazing final portraits, wall art, and albums to enjoy now and pass on to future generations. Photography is an investment that grows more valuable over time.
Invest in an artist…your memories are priceless!
We all probably know it at some level, but a tool is only as good as the person operating it.  This is true for mechanics, electricians, construction, and even chefs.  You can give me the best tool for a job, but I have to know how to use it or I won't get great results.  It's the same with photography – the professional camera and lenses aren't taking the picture…the photographer is.  A nice camera can do a lot, but without an experienced photographer's knowledge and expertise, it can't produce professional results.  These comparisons below are great ways to help you See the Difference.  Professional camera equipment and lenses are used in all examples, and you'll train your eye for what to look for in a professional photographer and how to discern a camera owner from a true professional.