Legacy is the foundation of our photography business. It's the piece that drives the families who choose us to choose us. We're not about clicking the shutter and handing a family an impersonal CD/USB with a to-do list of unfinished art. Our families invest time and effort in the preparation, planning, and for the session itself. That time and effort is honored best when the experience with us ends with the unveiling of finished art in the form of professional prints, framed wall art, canvas or metal pieces, and albums. Every single time, I hear comments of, "These are so much better in person," and "Wow…it's so different now that I'm holding these portraits." There is an inherent value in tangible legacy that cannot be matched by digital media.
That being said, so many of us have tangible legacy in the form of prints from decades ago that may be in need of restoration or archival services that we can provide. We all want to safeguard our legacy, and we can be your trusted partner in this.
Last year, we had the opportunity to complete a restoration project for a much-loved client family from Texas who has used us for senior photography for all three of their daughters. They called about a restoration project for a priceless portrait from past generations and said, "There's no one else we trust with this." They hand-delivered their precious portrait and entrusted us with the restoration.
You'll see the original (including a piece torn completely off on the lower left side) on the left and then two different restored portraits. Jon felt it important to provide both one restored but still consistent with the coloring the family has seen and enjoyed but also a true black and white as it's highly possible the true original portrait would have reflected black and white tones. It was a true honor to provide these priceless services to this family as well as provide printed portraits for them to cherish now and for the future generations.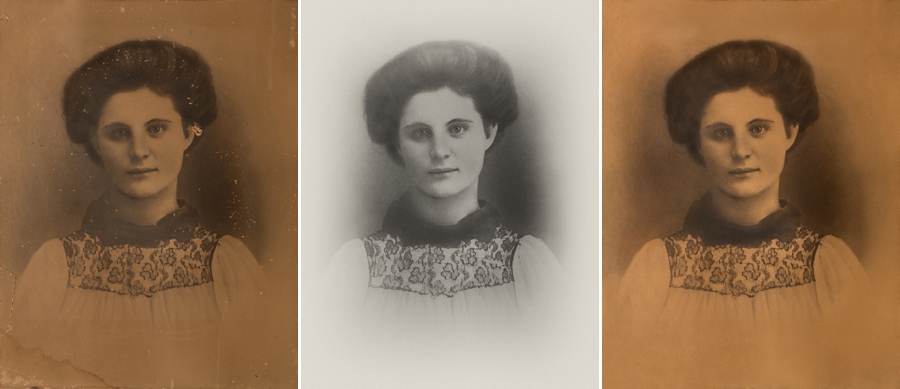 Also last year, we had a project for another much-loved client family here in town. The mom had been visited her ailing mother one day and found her throwing away decades of family pictures. She was able to rescue a large box of irreplaceable memories. After her daughter began the process of archiving to digital format the pictures, the amount of archiving was just too much to complete before college resumed. We were able to complete the job of archiving and cataloging over 1200 family pictures.
We cannot describe the honor we felt to be entrusted with this project. Within the 1200+ pictures were some dating back all the way to the Civil War and a handful of tintypes (metal prints dating from the late 1800s). We had such respect for the legacy preserved and for the way that we felt that we discovered the values and personality of these generations of our client's family in the stories told in the pictures. We wanted to share with you some of our favorites from the older decades of photographic legacy we archived.




We invite you to contact the studio at 719-291-9798 for more information on how we can come alongside and partner with you to preserve your family's tangible legacy. Your family is worth being remembered by future generations. We are able to provide legacy to your current generations through our portrait sessions and extensive array of wall art, print, and album options, and we are able to provide the preservation of past generations through our archival and restoration services.
Here's to legacy in 2018.
Jonathan Betz Photography – Colorado Springs Professional Photographer and Restoration Services